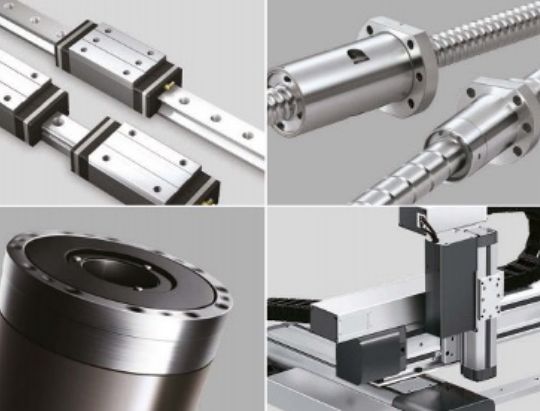 In the first half of the twentieth century, the modern linear guide was incorporated to improve manufacturing processes that required a smooth and accurate system. Linear guides are used in a wide variety of industries, including manufacturing, machining, 3D printing, robotics, welding, medical equipment, pumps, food and beverage, automotive, oil and gas, aerospace and defense, and more.
Any application that requires high precision will use linear guide systems for their high accuracy and precision capabilities. With smooth and precise linear motion, allowing movement in only one direction, items can be accurately and precisely placed. NSK linear systems are highly efficient and incorporate rolling elements to reduce significant dynamic and moving friction.
Several factors will need to be considered when selecting a linear guide system for your application, and the expert team at NSK can take you through the needs you have to help you choose the perfect linear guide, considering mounting space limitation, size of load, environment, and required lifespan.
Understanding Linear Rail Systems
Simply put, a linear guide is a device that restricts all directions of travel to one. The linear guide systems support and guide a load or mounted tool using smooth and precise linear motion. Linear rail systems are usually made from high-strength galvanized or carbon steel, designed to resist corrosion. Linear rail systems come in various sizes depending on the size of the components that will need to be moved through the system. A linear guide consists of three major components: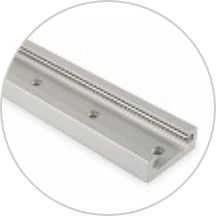 The Rail – also called a trackway or guideway, the rail is stationary. Rails can be mounted horizontally or vertically, and the length of the rail determines the distance the block can travel. Rails can be combined to increase the overall length, and the distance between the center of each hole along the rail determines the rail pitch. Linear rails are typically made of carbon or stainless steel.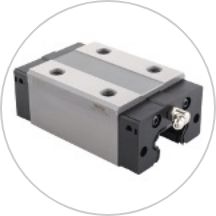 The Slide Mechanism – the moving part that will support the load and moves in the direction of travel. This is sometimes referred to as the block or the carriage and is usually made of carbon or stainless steel. It will be situated on the rail with a friction modifier.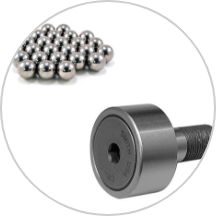 The Friction Modifier – the friction modifier, which can be ball bearings, roller bearings, or lubrication, reduces the friction forces of the movement. The bearings will rotate between the stationary rail and moving block and recirculate internally within the moving component.
The load capacity ratio increases in an arc contact of a ball or roller bearing system rather than a point-to-point contract. When stress is distributed over a larger area, the material can withstand much more significant amounts.
Shapes and Styles
Linear guide shapes and styles can make a difference.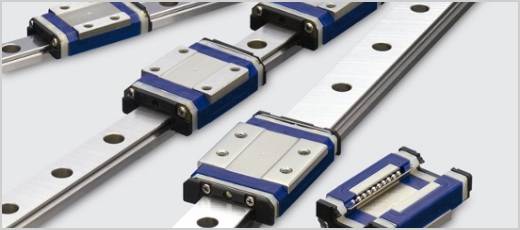 Short blocks are suitable for saving space, while long blocks have increased load capacity, and flanged blocks increase installation options.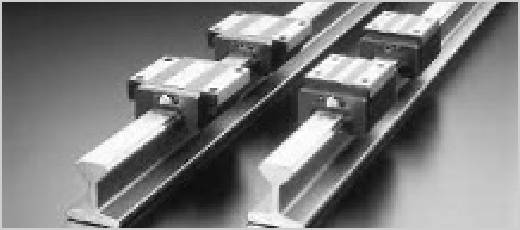 Low-profile blocks are compact with increased capacity.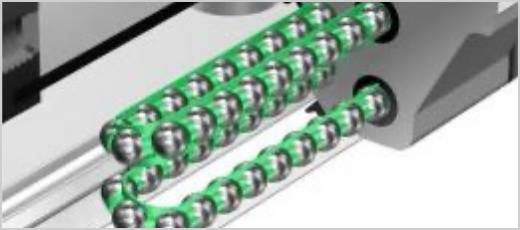 Caged ball systems will align and guide ball bearings as they recirculate and often have quieter operations with a maximum speed rating.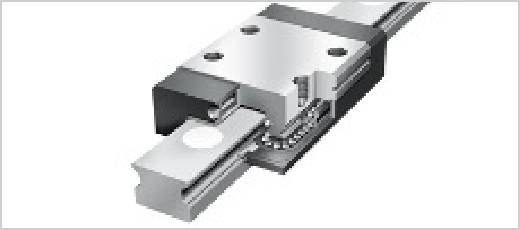 Non-caged ball systems, where the ball bearings roll freely next to each other, are more forgiving to contamination but can be louder. The rolling motion will provide greater efficiency.
NSK linear guide systems are highly efficient, greater than 96%. With so many factors to consider, working with an NSK professional will help you determine the right system for your industry.
Unlock Greater Efficiency with Liner Guide Systems
There are environmental considerations to consider when developing a linear guide system. The intended application and industry for which the linear guide system will be used play a great role in the linear guide assembly.
A clean, debris-free environment is key to preventing ingress in the rolling elements. Dirt and dust in the rail can combine with internal lubrication, so in applications where a clean environment cannot be sustained consistently, an upgraded lubrication option can be added to the linear guide system to help increase the lifespan and counteract the environment. Proper lubrication is the most crucial part of linear guide maintenance in any application.
Actuators For Linear Guide Systems
In addition to the basic components of linear rail systems, actuators can also be incorporated into the system, with the most common types being: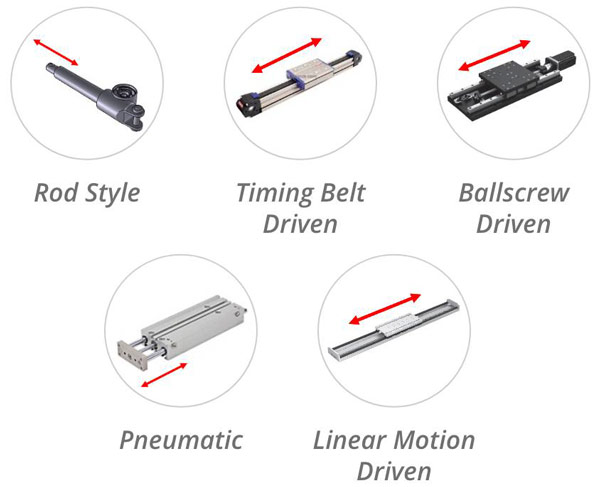 When considering the proper actuator, there are many factors to consider, including the travel requirement, how fast the motion will need to occur, how accurate the motion needs to be, the environment, the payload, any constraints, any safety requirements, the actuator orientation, and the budget for the complete system.
A pneumatic actuator is suitable for simple controls and low precision, whereas a belt-driven actuator is better for high speed and low precision. Linear motion-driven actuators work well for high speed and accuracy, and rod-style actuators have telescopic action.
Standard Or Custom Linear Rail System Designs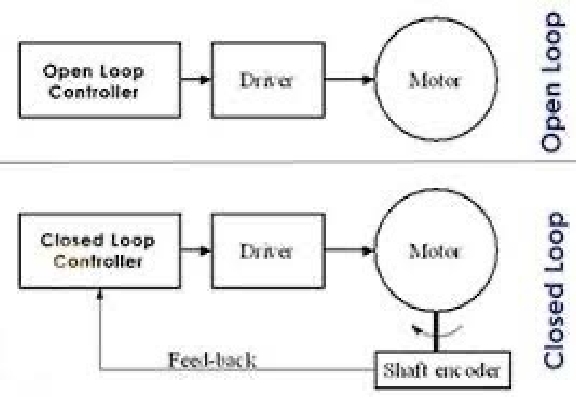 A linear rail system can be obtained as a standard device or custom-designed, depending on requirements. Some industries have high degrees of regulation and need the precision that a custom solution can provide. Still, the construction of a linear rail varies but is broken down into the basics, which will continuously be developed with the application in mind. Every linear rail will include a structural base and moving carriage, a guiding component, a driving component, a position feedback device, and travel stops, either hard stops or sensors.
Position feedback devices can be used in conjunction with linear rail systems. Many types of position feedback devices translate physical motion into electrical signals that can be used by a control device to determine speed, acceleration, and position. These systems can be absolute or incremental, operating on a closed or open loop.
Multi-Axis Designs
Although linear rail systems are simple and effective, some rail systems can become far more complex based on the application's needs. Specific applications will require a multi-axis design. In a multi-axis design, a solution can go from simple to highly complex, and instead of a single rail or pair of rails, a table system may be used when positioning objects in a 3D, rather than 2D space.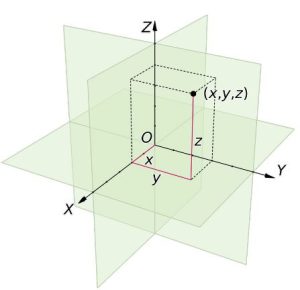 Developing multi-axis systems is not simply adding additional rails, but will have further considerations, such as the accuracy requirements, the effect of the individual rails on each other, and how the systems will be coordinated.
Types of Linear Rail Systems
Linear rails can be referred to by a variety of names, including linear guides, linear slides, and linear guide systems. The common factor is that all linear rails are designed to move items through a production process with great precision and little friction.
Linear rails support and guide moving parts as they move in a linear motion in a specific direction. The main difference between linear slide and guide rails is based on their friction qualities. Linear guide rails are used in applications with high precision requirements. The rolling steel ball can meet the needs of moving parts due to the low friction coefficient and high sensitivity. Linear slides allow for smooth motion along a single axis, while guide systems comprise other parts for a complete solution. From a pure performance perspective, linear rail systems are superior, with greater precision, better mounting, and excellent reliability.
NSK has several primary linear guide system families appropriate for different applications.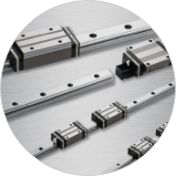 NH/NS
– The
NH and NS series
are ball-bearing linear guide systems. The NS series has a compact, low-profile shape, while the NH series has a larger ball diameter with a larger load rating capacity. The NH and NS series feature excellent durability with a twice as long lifespan as the conventional LH and LS series. These linear guides are maintenance-free with an optional lubrication unit. They feature a robust design to absorb any potential mounting errors, and the rails and slides can be selected in a variety of combinations. With abundant options and customization, these linear guides are easy to use in nearly every application.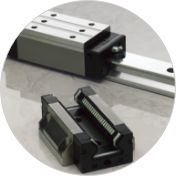 RA
– The
RA series
is a roller-bearing series appropriate for a super-high load capacity. Users have the opportunity for random matching of rails and roller slides for preload with high accuracy. The RA series is excellent for high machine performance and is available in eight models that can be used in many fields. With an optional lubrication unit, the RA series is also maintenance-free. The RA series is also designed to be highly dust-proof, with standard seals that block out any foreign matter and maintain high-performance levels. Due to the makeup of the RA series, it has high rigidity, high motion accuracy, and exceptionally smooth motion, resulting in stable positioning accuracy and low friction. As with the NH/NS series, there are abundant variations to meet various needs.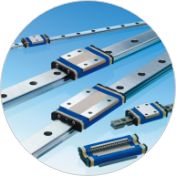 PE/PU
– The
miniature PE/PU series
is ideal for semiconductor manufacturing and medical equipment. These linear rail guide systems have improved dynamic friction and smoother motion with reduced noise. Some of the features include a highly smooth operation, a ball slide that is 20% lighter than other options, reduced noise intensity, low dust generation and excellent dust resistance, high corrosion resistance, ease of handling, and low maintenance with an optional lubrication unit. This series was developed for precision and will support advanced and cutting-edge equipment. The ball bearings are resin and recirculated optimally to result in the smoothest motion.
Because such a wide variety of sizes and specifications are available, linear guide systems are found in almost every mechanical technology environment. They perform better than nearly every other system due to their load capacity, accuracy, and durability.
Industrial Applications For Linear Rail Systems
NSK linear rails systems are reliable, efficient, and durable, making them appropriate for handling everything from cement to palm oil and sugar processing. NSK linear guide systems are found in semi-conductors for highly technical production, office equipment, food processing machinery, motors and gearboxes, pumps and compressors, mining and construction, wind turbines, steelmaking, papermaking, all types of machinery, aerospace and defense, and railways.
NSK products are incredibly versatile and can always provide customers with the right solutions. NSK linear guide systems can withstand over ten times the load capacity compared to round rail guides, making them the wise choice for nearly every industrial application.

Benefits of Linear Rail Systems
The benefits of linear rail systems are numerous for every application. There are options for linear systems in manufacturing for moving components, but the two most popular are linear rail systems and linear rod systems. There are many advantages to using linear rail systems for various applications and industries. Linear rails have excellent precision, smooth motions, exceptional durability, and load-carrying capacity. When customized for the unique application, their advantages only increase. Linear rail systems provide high accuracy and stability compared to other options. Linear rail systems have better mounting and smoother motion, improving quality and reliability. NSK linear guide system products constrain and move objects with micron accuracy, which is ideal for highly regulated industries.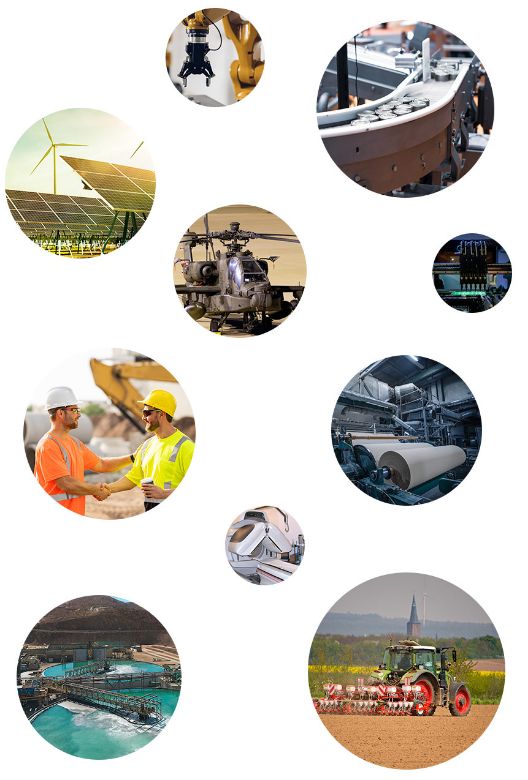 Linear rail systems are appropriate for many industries and can be adapted to different specifications. This includes:
● Oil and Gas
● Aerospace and Defense
● Automotive and Transportation
● Semiconductor
● Food and Beverage
● Medical Device
● Industrial Robots
● Machine Tools
● Construction and Fabrication
● Entertainment
● Appliance Manufacturing
● Agriculture
Linear guides are used in CNC machines designed to create precision parts, 3D printers, optical equipment, medical equipment, and robotics. These devices require exceptional functionality, low friction, and high precision. High precision and repeatability are essential for this equipment, and the low friction will not impact the performance of the equipment. These pieces of equipment need extreme precision, which can be achieved by using linear rail systems. Precise cuts and prints are obtained when the system functions with smooth motion and low friction.
Which Is Better – Linear Rod Vs Linear Rails
Flexibility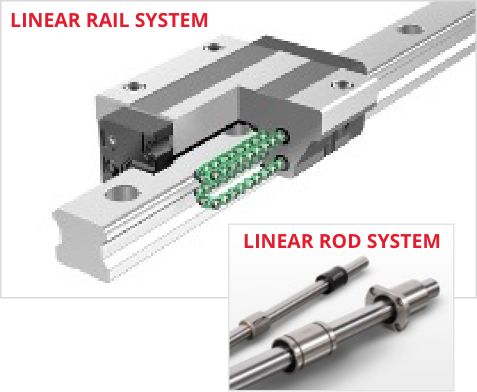 Linear rails flex less than linear rods due to shape and metal stiffness. This decrease in flexibility leads to greatly reduced backlash, yielding cleaner surfaces and edges. Also, unlike linear rods, linear rails do not allow for carriage rotation. This means that when setting up a motion system, a single rail can achieve strictly linear motion independently. With linear rods, a minimum of two will be necessary to prevent rotation, which can cause issues with proper alignment and bring weight considerations into concern. Linear rail systems are more straightforward, lighter, and nimble than others.
Linear rail systems, designed with curved grooves that provide surface contact between the balls and rails, make the permissible load far greater than guide components that use only single-point contact, such as linear rods. The design can be more compact with a much smoother motion. Linear guide balls can recirculate endlessly, meaning the motion can last however long the rail is designed, which is ideal for industries that require customization.
Accuracy
Linear rail systems have more accessible and more precise mounting than linear rods. The rails and carriage of a linear rail system both have regularly spaced mounting, so the system is easy to lock into place. Linear rods and bearings, due to their round shape, have less precise mounting, making them the less favorable choice. Particularly in medical device manufacturing, but in other highly regulated industries where precision is paramount, the accuracy in mounting matters.
Linear rail systems enhance the efficiency and reliability of all linear motion applications. Because the motion is smooth, nimble, and precise, the system has a high tolerance and will restrict movement to strictly linear directions. The recirculating ball bearings that provide contact points between the carriage and the rail will enable a smooth sliding motion. The lower the friction, the more precise the linear rail system can be.
Vertical Linear Rail System Designs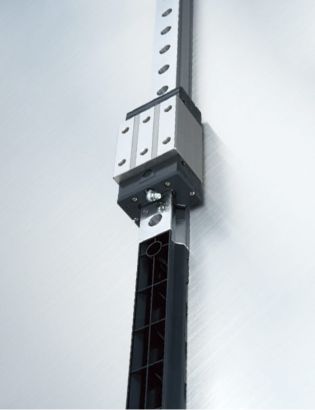 Although most linear rail systems are installed horizontally, it is possible to mount them vertically on a wall or ceiling. Linear rail systems have the proper structure of support a load in any orientation. This allows for more applications and additional customization options for various configurations in manufacturing.
Linear rails are highly customizable to fit the needs of any industry in the manufacturing sector. They can be configured as single horizontal rails, single vertical rails, or in combination of rails, usually in pairs, but can be in squares. Assembly of linear rails is quick and straightforward, with a high-quality assembly completed efficiently. Numerous options exist with lubrication methods, load-bearing capacity, processing methods, and running speed. Once the needs, conditions, and operating environment are determined, a linear rail system can be implemented with the right precision for the task.
Maintenance For Linear Guide Rails
While linear rails may initially be a more significant investment than rod systems, the life and longevity can be accurately calculated for linear rail systems. This adds significant value to machine design engineers for an expectation of the lifecycle of their machines. When you have a clear picture of the longevity of your system, you can implement planned preventative maintenance to ensure that the system is always functional when needed.
Determining the lifespan of linear rail systems is a concern for many industries, as the longer lifespan of the linear rail system will impact the efficiency and overall cost of production. How long a linear rail can last with the same degree of accuracy and precision is a concern for design engineers. One of the theories is how to calculate lifespan is based on the function of the load size placed on the bearing. The calculations can be complex, but due to their structure, composition, and assembly, NSK linear rails have a longer lifespan than many other options for linear guide rails.
Another concern with any system designed to move is the contamination from dust or debris, especially in environments where a dust-free climate can not realistically be maintained. Foreign materials can compromise the linear system.
Smooth Motion and Minimal Friction
In an NSK linear rail system, there are a variety of solutions that can be incorporated into the guide system. NSK offers lubrication devices that extend the maintenance interval and casings designed to keep contaminants from the linear rail system. An integrated casing or lubrication system makes the linear rail system virtually maintenance-free, even in environments with a good deal of debris.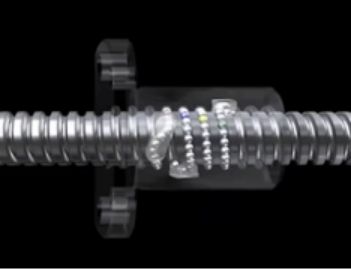 When you manufacture products for any industry, you move things through the manufacturing process with great precision, a smooth motion, and minimal friction. The best way to do that is by using linear rails. A linear rail system will support the movement and allow the load to be moved through the manufacturing process smoothly and safely.
NSK, Experienced and Trusted Linear Guide Rail Experts
The importance of linear guide systems in modern engineering and industrial applications cannot be understated. The linear guide systems manufactured by NSK will help you achieve precision and efficient linear motion in any application you need in your industry. Nearly every industry will benefit from a linear guide system as a versatile system.
Working with NSK to develop the ideal linear guide system for your unique application and industry will help you achieve smooth and accurate motion benefits for all your needs. NSK linear guides can be customized, are highly rated for performance and durability, and are competitively priced without sacrificing quality. NSK is considered one of the top key companies for linear guide systems, and the professionals can determine exactly what you need for optimal functionality.