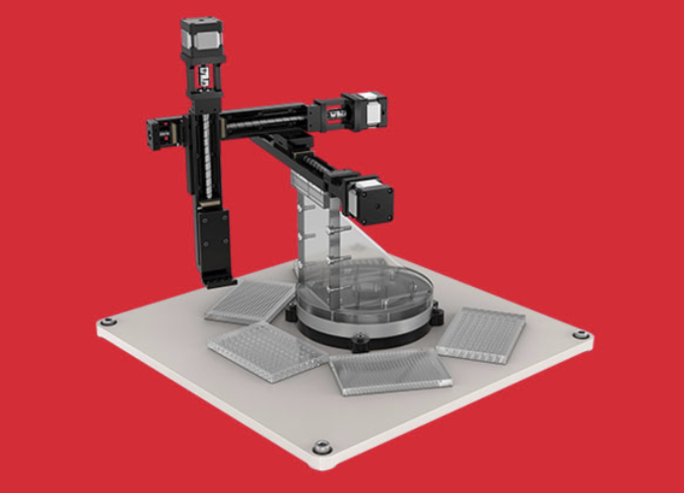 Motion and control systems can dramatically impact the efficiency and production of various manufacturing and industrial operations. There are several different ways you can obtain and integrate these systems, from completely customized processes to prebuilt models.
Although completely customized motion systems offer plenty of benefits, prebuilt models can also offer a ton of efficiency and productivity to operators. And they can be an incredibly convenient and easy solution. These systems often include sub-assemblies that are able to join together as one larger unit, such as the NSK Monocarrier and Robot Module Linear Actuators to configure motion in XYZ axis, or the NSK Megatorque, for rotational motion.
Whether you're looking for a standalone system or trying to integrate new equipment into your existing factory automation equipment, there may be a prebuilt system that provides a simple and efficient solution to solve your specific automation issues. Here's a quick guide to this type of system so you can make the most of this option in your own motion control systems.
What Is a Prebuilt Motion System?
Simply put, this type of motion system is one that has already had its components put together and tested to ensure functionality and accuracy. Instead of starting from scratch, you can invest in a selection of parts that you know will work together seamlessly. Businesses and industrial facilities can use them to augment their existing machine functions or improve motion and control production and accuracy in a variety of different applications. 
Since these motion systems can be put to use in such a wide array of industries and help with so many different specific functions, pre-built models vary widely in their design and complexity. It's important to work with motion control professionals who can help you ensure the prebuilt systems you want to invest in are the best possible fit for your operation or existing equipment. 
The idea behind pre-built motion systems allows industrial facilities to integrate more automation technology into their operations without having to go through the full design and testing process. Though customized motion systems are often beneficial or even necessary for complicated processes, prebuilt linear actuators or direct drive motors and a combination thereof, can come in handy to simplify processes or avoid common issues that impact many operators. Rather than starting from scratch, you can take advantage of the mechatronics expertise and knowledge of NSK's Americas-based Application Engineers, who develop electromechanical solutions for our Americas-based customers.
How Can a Prebuilt Motion System Increase Productivity and Efficiency?
Prebuilt motion systems make the process of integrating automation processes more accessible for motion control experts and amateurs alike. You can simply find a solution that fits your needs, say an actuator, and add accessories like sensor kits, motor mounts, and combination brackets, or talk to an NSK Mechatronic expert to design a system for you, without the need for extra testing or customization. This removes many of the barriers that can sometimes keep facilities from investing in as much automation equipment as they'd like. Your team no longer has to worry about navigating the entire testing and integration process, and you can feel confident that your investment in new system components will actually work as intended. 
In addition, prebuilt systems can help you fill gaps in the functionality of your existing motion technology. If there's a very simple process that your custom system isn't optimized for yet, you may be able to find a pre-designed option to complement your process, so you can take advantage of even more automation in your processes without needing to completely redesign or re-test your equipment.
Can NSK Automation's Prebuilt Motion Systems Integrate With Your Existing Factory Automation Equipment?
If you're looking to improve your existing factory automation systems, you should know about the prebuilt motion systems offered by NSK Automation. Our systems are designed specifically to integrate seamlessly with the equipment that you already use. You can choose from our wide array of precision machine components and mechatronics technology to augment function or improve overall equipment efficiency. And many of our mechatronic sub-assemblies are optimized for performance and footprint. We'll even work with you to understand your current setup and make sure that the prebuilt systems you invest in are a perfect fit for your automation needs. 
Since the components in prebuilt automation systems have already been tested and proven to work together seamlessly, the integration process should be fairly quick and easy. Your operations can continue without interruption while you enjoy the increased production and efficiency of your new prebuilt motion system. Basically, it allows you to take advantage of all the incredible benefits of automation, without having to spend extra time or money on testing and implementation.
About NSK
NSK Automation is a global manufacturer of motion control and automation systems. With more than 100 years of experience, we offer a wide array of mechatronics, prebuilt motion systems, and fully customized automation solutions for operations in a variety of industries, from manufacturing to medicine. Our skilled team can handle the full system design and integration, whether you're looking to include prebuilt motion systems or start with customized technology from the ground up. If you're interested in taking advantage of all the benefits of motion control automation by utilizing prebuilt motion systems, contact NSK Automation today at automation@nsk-corp.com