World top class dynamic load rating delivers over twice the running distance
NSK's newly developed DH/DS linear guides achieve over twice the running distance compared to the conventional series, delivering long term stable operation. NSK will be exhibiting the new series at "NSK VIRTUAL EXPO – Machine Tool Online Exhibition" from January 25 – February 26. The new series will be available starting from April 2021. NSK is targeting 6 billion yen in sales by 2026.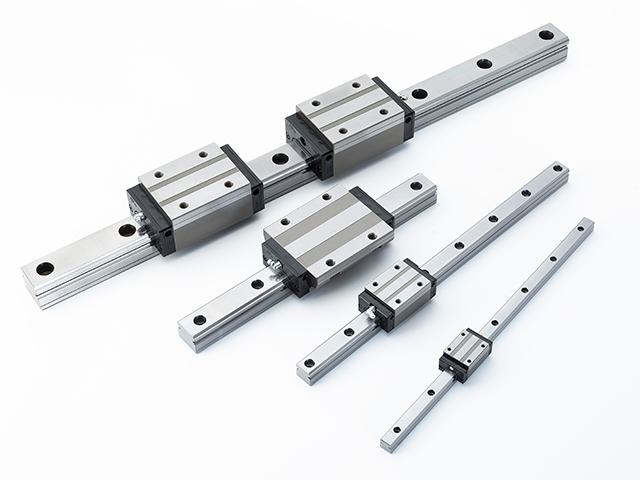 Development Background
NSK linear guides are used in a wide range of applications, mainly in various types of production equipment such as semiconductor and LCD manufacturing equipment, automotive manufacturing equipment, conveyor robots, and machine tools. Customers are always hungry for products with longer service life in order to achieve high reliability and long-term stable operation. NSK's conventional NH/NS linear guides met customer needs for high reliability by optimizing contact surface pressure distribution between rolling elements (balls) and raceway grooves.
With the recent acceleration of the shift to smart factories, equipment is required to further improve productivity by improving tact times, operating around-the-clock, consuming less energy, and having a compact form factor. These developments require that linear guides keep pace with even higher reliability and longer life.
NSK TF "Tough" Technology
To meet demand for even higher reliability in linear guides, NSK applied its proprietary TF "Tough" heat treatment technology. Newly developed DH/DS linear guides are made with TF heat treatment, thereby achieving over twice the running distance compared to the conventional NH/NS Series.
How does TF "Tough" Technology work?
TF technology is a unique heat treatment developed and refined over many years by NSK's Core Technology R&D Center. TF heat treatment controls the amount of retained austenite in steel to extend fatigue life of components such as bearings and linear guides. Optimizing the amount of retained austenite softens the contours of dents formed when a ball or roller presses foreign matter (contamination/particles) into the raceway surface. This reduces areas where stress might focus, thereby suppressing surface flaking and extending running distance.
Features
1. Twice the life compared to conventional series
NSK's proprietary TF technology enables DH/DS linear guides to achieve world-top-class dynamic load rating and twice the life of the NH/NS linear guides. This further increases machinery and equipment reliability and enables downsizing equipment by using smaller linear guides. Downsizing can contribute to weight reduction and energy savings.
2. Broad lineup
Broad lineup of models and variation to choose from. Dimensions follow ISO requirements, and DH/DS linear guides are interchangeable with NH/NS linear guides (equivalent models have the same dimensions and configuration).
3. Versatile options
High performance seals, lubrication units, and many other options in line with options for conventional series.
4. Benefits
The new series significantly enhances reliability and contributes to productivity improvements. Downsizing contributes to weight and friction reduction and energy savings.
5. Applications
Semiconductor and LCD manufacturing equipment, automobile manufacturing equipment, conveyance robots, machine tools, railway platform doors, CT scanners, and a wide range of other equipment and machinery.
About NSK
NSK began its journey manufacturing the first bearings in Japan in 1916, and has since developed into a global organization researching, designing, and manufacturing Motion & Control™ solutions essential for mobility and industrial applications. NSK is the top supplier of bearings in Japan and is the third largest supplier in the world by market share.
Our responsive products and technologies enhance automotive performance and industrial productivity while reducing energy consumption to unprecedented low levels. In the early 1960s, we set our sights outside Japan and have established over 200 business locations in 30 countries alongside a vast network of joint ventures and partnerships in all corners of the world.
NSK Corporate Philosophy
NSK contributes to a safer, smoother society and helps protect the global environment through its innovative technology integrating Motion & Control. As a truly international enterprise, we are working across national boundaries to improve relationships between people throughout the world.