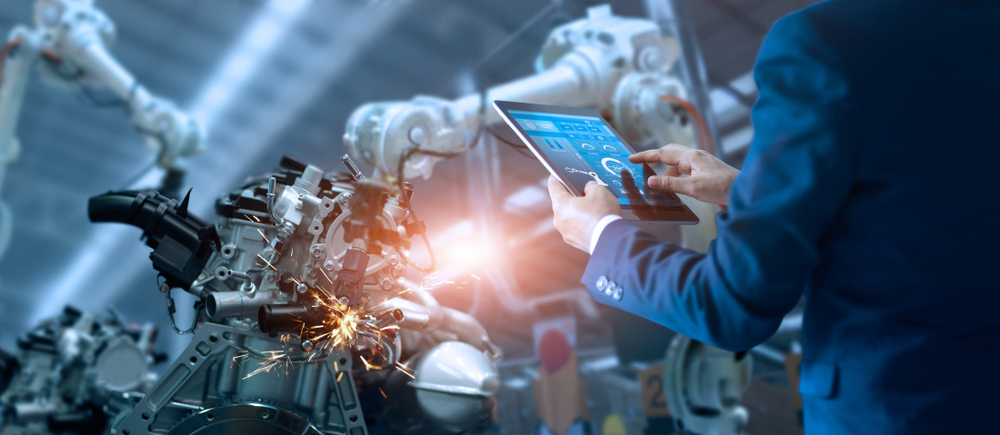 Companies that make use of robotics equipment are often on the cutting edge when it comes to automation and efficiency. To really make the most of this equipment, it's important to choose providers that offer the highest possible level of performance and durability, along with the features you need to achieve your company's operational goals.
This is especially true when it comes to motion and control systems. The quality of components like linear guides, robotics roller bearings, and motors can all make a major impact on the operational efficiency of a wide array of robotics. These items can allow machinery to operate faster, require less maintenance, and stay in good working order for as long as you need them.
NSK is a global leader in creating linear guides, direct drive motors, and roller and ball bearings for robotics. Our team is constantly innovating to create solutions that improve performance and give companies the features and benefits they need to operate their equipment as efficiently as possible. Here's a guide to some of our innovations and what sets these automation systems apart from others in the industry.
What Has NSK Done to Improve Performance in Linear Guides for Robotics?
The robotics industry is constantly evolving. So the performance of specific components like linear guides need to consistently improve as well. When it comes to linear guides, NSK has made significant advancements to improve performance. Many of those changes have to do with increasing the load rating capacities, more evenly distributing pressure along the contact surface, and extending rating life.
More specifically, NSK has created bearings and components that create smoother ball circulation, which allows for easier and more efficient movement throughout the process. We've also improved the design of the rail and slider, which has led to reduced noise while linear guides are in operation. In fact, these upgrades also allow equipment to operate faster, since the smoother components create less friction as the various parts all move and work together.
These design upgrades also make it so the bearings and components can absorb impact loads more effectively, which ultimately improves both the durability and performance of the machinery. In fact, the ability to absorb those loads more evenly allows equipment to work faster and more efficiently, while also minimizing the impact of errors. So you don't need to deal with as much downtime or maintenance.
That's not all that NSK has done to more evenly distribute the impact load and improve performance. We've also added extra rows of ball support and interchangeable parts. This means that the rails and ball slides can be used in various combinations depending on your specific needs. They can also be combined to create linear guides of nearly any length. So no matter what the size or scope of your project are, there's sure to be a combination that will work for your needs.
NSK has also added a wide array of other performance and durability features to robotics bearings, linear guides, and other products. These features include things like double seals, dust protection, and surface treatments to make it so the material can stand up to extreme temperatures.
Finally, the smoother bearings and rail and slider improvements can help machinery easily absorb mounting errors to easily correct any issues that may have come up during installation. Basically, these parts have the ability to self-align. So even if something was done incorrectly at first, the components will self correct and the equipment should still work as intended.

Global Robot OEMs Trust NSK for Accuracy, Reliability, and Product Lifespan
For all of these advancements made over the past several years, and across the entirety of our company's long history, NSK is highly regarded throughout the global robotics industry. Original equipment manufacturers trust NSK to provide roller and ball bearings, linear guides, and direct drive motors that meet all of their performance and durability requirements.
These companies understand that even small advancements like creating smoother ball circulation can make a big difference over the course of a product's lifespan. That smoother motion that leads to less noise and faster speeds during operation can make their equipment more effective, leading to increased production and decreased downtime. It can also lead to less maintenance over the course of the lifespan, which reduces cost and time waste. And it also allows their equipment to last for as long as possible, so they don't need to replace parts or equipment constantly.
Additionally, lubrication can also help linear guides and roller and ball bearings for robotics operate more efficiently. Though this is optional, adding a combination of oil and resin to these components can help operators reduce the amount of maintenance and repairs or modifications necessary throughout the equipment's lifespan. This can help you reduce or eliminate slowdowns or shutdowns in your operations, which ultimately allows you to increase production and improve the durability of your equipment.

About NSK

NSK Automation is a global manufacturer with more than 100 years of engineering and manufacturing mechatronics and linear motion technology, ball and roller bearings, automotive components and steering systems. We offer full system solutions for motion and control of automation equipment and production assemblies. We can handle the full system design and integration, engineer specific applications, analyze bearing failure and find satisfactory solutions, repair ball screws, perform preventive maintenance, and ensure reliability of bearings and parts. If you're looking for high-durability, peak performance bearings, mechatronics, or linear guides with long lifespans and unmatched durability, contact NSK Automation today.