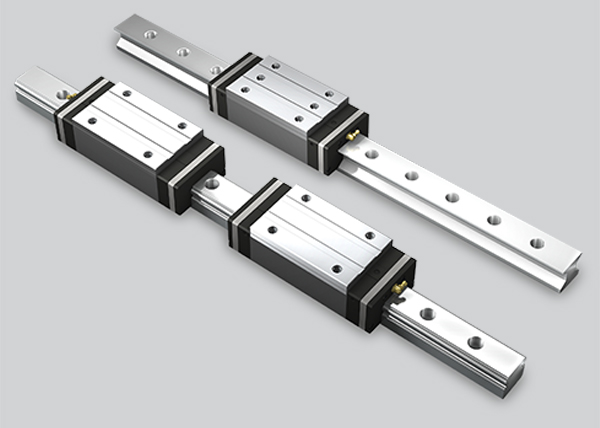 If you're an engineer and your company is obtaining quotes for linear guides, it's important to be aware of the critical features, durability, and capabilities that are on the cutting edge of this product category. The lifespan of a linear guide will have a direct impact on its productivity over time. Although your needs may vary by industry and application, we're going to list some of the key areas that should inform your decision.
What Attributes of Linear Guides Contribute To Long Life?
Companies that manufacture linear guides are consistently developing enhanced manufacturing technologies to extend linear guide life. While a larger load rating capacity can extend rating life of a linear guide, improved distribution of contact surface pressure also results in an extensive increase in lifespan, as a result of improvements to the ball groove geometry. For example, NSK Linear Guides have shown a load rating capacity increased by 1.3 times, and lifespan was bolstered 2 times over previous units.
A robust design which absorbs mounting errors also contributes to the lifespan of a linear guide, increasing durability and efficiency of the unit in obtaining peak precision. 
How Maintenance-Free Linear Guides Can Increase Reliability and Productivity
Although optional, a lubrication unit used in conjunction with a linear guide results in a maintenance-free operation over a long period of time. Less time and money spent on hypothetical future repairs or modifications means little to no slowdowns or shutdowns – helping to ensure a high degree of production and durability. 
A linear guide built robustly will have the capability to self-align – enhancing the ability of the unit to absorb errors in installation (if any) and is less demanding in calibration when mounting of the linear guide. Additional capabilities include double seals, protectors, and surface treatments. Surface treatments can include low temp chrome plating or fluoride low temp chrome plating. Standard linear guides come with dust protection for normal conditions, thus increasing reliability over time.
Lubrication technology includes the combining oil and resin into a single unit. Resin is porous and has a substantial quantity of lubrication oil. During the operation of the linear guide, the lubrication unit provides fresh oil to contacting surfaces, enhancing operation efficacy and thus furthering the life of the application.
A higher linear guide lifespan contributes to low or no maintenance over time, lower costs, higher productivity, and better performance overall.
Ball Circulating Groove Contributes to High-Speed Linear Guide Capability
Additional capabilities for linear guides come in the form of noise reduction and smoother ball circulation. Improvements in this focus include a decrease of approximately 3 dB while at the same time increasing feed speed. This makes improved linear guides more useful and adapted for high-speed applications that demand a quieter operation yet with enhanced performance. 
Smoother ball recirculation are tied to noise level and higher speeds, and in fact, what contributes to high absorption of impact loads is NSK's design of the rail and slider, and the relation between the Gothic arch ball grooves. See Fig. 5 below.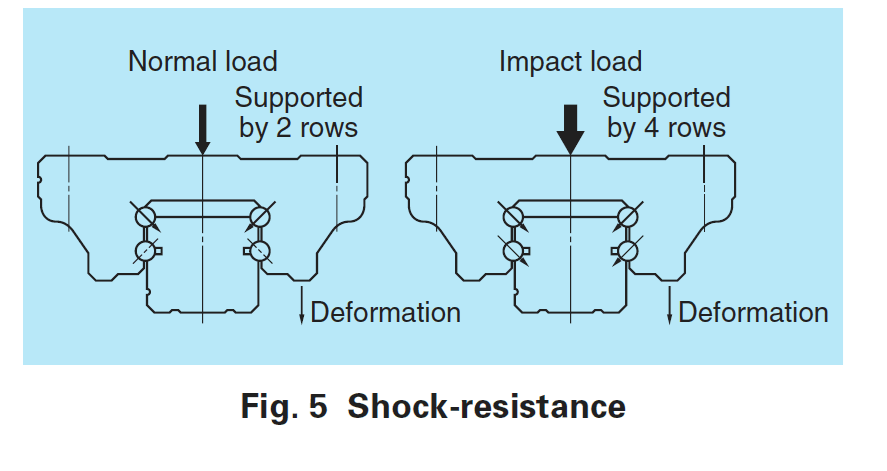 Typically, the NSK linear guide has an "X" load distribution, with 2 circuits receiving the load at any given time and any load direction. Under high loads (impact load), the slider will change from an "X" contact to a tandem (parallel) contact. This is due to the innovative NSK rail and slider design. As a result, 4 rows of balls support the impact load. This difference makes NSK superior in terms of impact load distribution, since it has 2 extra rows of balls supporting the impact load.
With interchangeable parts, rails and ball slides can be used in many combinations, with virtually unlimited rail length. If you need high-durability, peak performance linear guides with maximum long-life, contact NSK Automation today. https://www.nskautomation.com/contact/